When peat runs out of water...
2012-07-06 22:54:23 | author:: By Martin Siuchno, cooperation Jacek Karczewski, Anna Pilars
When peat runs out of water...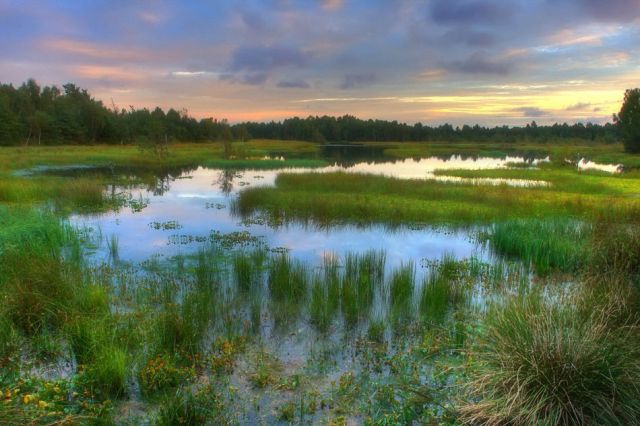 Peat cannot exist without water. It is only because of water that dead organic matter accumulates, forming peat deposits several meters thick, because water off the oxygen supply. When water runs out and the upper layers of peat are desiccated, the process of weathering and mineralization begins. This does not mean that the entire deposit is destroyed immediately. On the contrary, it is a long gradual process, called by some flameless burning of peat (as a consequence, the poisonous carbon dioxide bound in peat is released to the atmosphere). Importantly, such process of peat loss can be stopped at any time, as soon as water level returns to normal. However, when water scarcity is a long-term problem, the whole cascade of events is initiated leading to irreversible changes in the nature of peatland, and eventually to its degradation.

Overdried peat, with its distinctive fibrous structure transforms into a crumbly structure. The partially decomposed peat called rot, completely changes its physical properties. First of all, it stops absorbing and storing water. This exacerbates the water deficit in peat which is already excessively dried. When the peat disintegrates it slowly releases minerals. Finally there is the phenomenon of mineralization - tiny grains of sterile sand are formed which are blown away by the wind. Then, as a natural process, the changing of the soil structure, leads to changes of life it supports.

First disappears the flora. All plant communities which shape peatlands are perfectly adapted to prolonged and periodic flooding with water, as well as scarcity of minerals. When these two factors no longer exist, strong competitors enter the scene, gradually displacing the native inhabitants. The "new" plants actively shape the site conditions to suit their needs. This is how the vicious circle closes – or indeed this is how the problem starts spiralling.

Such phenomenon has been observed for a long time even on our last true marshes – the Biebrza marshes. Here into the world of open marshy meadows descend shrubs and trees. By pushing their roots into the peat they facilitate the access of oxygen to the deeper layers. In addition, most of these trees and shrubs, are willows and birches with very "extravagant" water economy – they drain marshes almost as effectively as ditches dug by people. As a result of evaporation from leaves of only one plant a few dozen gallons of water can escape from marshes in a day. It may not seem like much, but when you add up all the plants and trees that act as kind of drainage channels, then in their total mass they prove to be a serious problem ...

Over time, around bushes and trees zones are created in which the peat is more dried thereby it mineralises and rots more quickly, releasing even more minerals to the surface, consequently increasing the rate of weathering and mineralization of the surrounding peat soils. Thereby the range and scale of changes begin to spiral out of control... There appear new species, preparing the ground for their followers. All this is done at the expense of the indigenous and wetland vegetation, which loses the optimal conditions for development and it living space. Along with the typical marsh plants disappear other groups of typical marsh organisms - spiders, beetles, mammals, birds ...

When nothing can stop this process, peat which has been forming over a few thousand years disappears within a few decades. During this time, the living conditions of the bog are changing so dramatically that only remnants of the former residents are able to live here. What's more, tons of carbon dioxide are released into the atmosphere, which to date was safely tied up in the peat ...